(Jerusalem, Israel) — Historic, stunning events are breaking here in the region.
President Trump announced today that he has brokered a peace deal between Israel and the United Arab Emirates. 
This is the first time in 26 years that an Arab state has agreed to make peace with Israel. The first was Egypt in the period between 1977 and 1979. The last was the Kingdom of Jordan, in 1994.
The president held a phone call with Israeli Prime Minister Netanyahu and UAE Crown Prince Mohammed bin Zayed to finalize a deal that has been in the works for month.
When I was in Washington, D.C. last month, I met twice with the UAE Ambassador to the United States, Yousef al-Otaiba, and spoke with him by phone, as well. With each conversation, it was becoming clearer that the UAE was working on a peace deal.
However, UAE senior officials were also making it clear to Israel that they could have full normalization, or annexation, but not both.
Throughout the summer, the President and senior U.S. officials who had initially supported Israeli "annexation," or "incorporation" of some percentage of Judea and Samaria (the "West Bank") into the sovereign state of Israel, began rethinking. 
In a conversation with a very senior U.S. official, I made the case that a peace deal between Israel and the UAE was far more important, historic, strategic and game-changing and pressed the administration to pursue that route with vigor.
I'll share many more details in the days ahead.
For now, here is the officials statement released by the White House: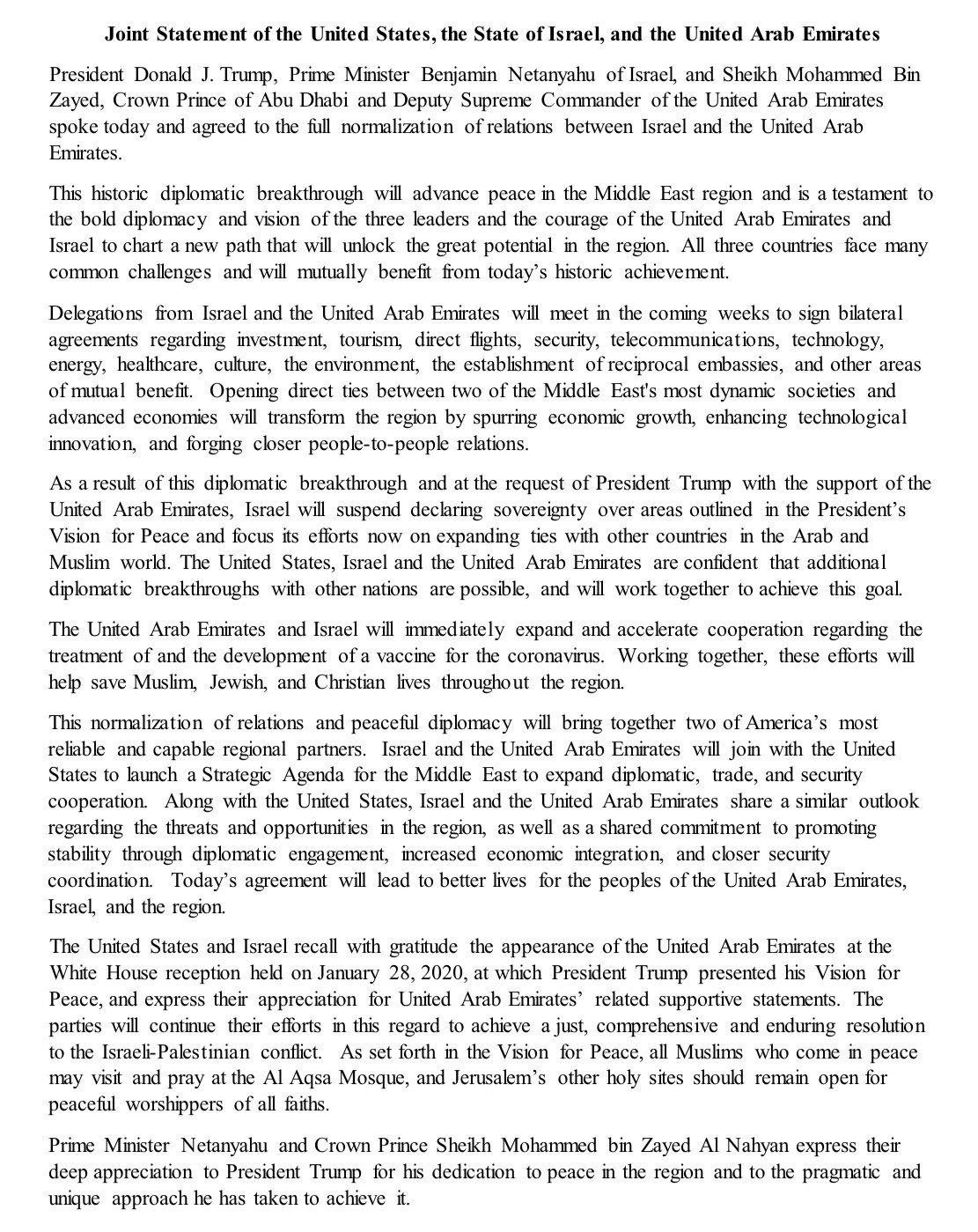 I'll have more updates on Twitter on this exciting, dramatic development.